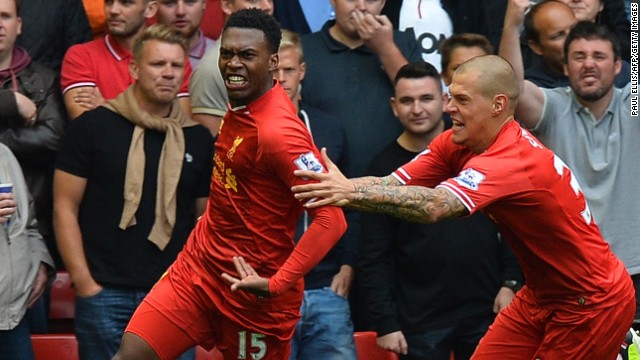 Sturridge makes at 3 from 3 at Anfield!
Liverpool vs Manchester United
Final result: 1-0
Liverpool
Mignolet-
Once again, this guy has proven to be an outstanding keeper for Liverpool. He has kept a clean sheet in each game this season and hasn't looked like being beaten thus far. His reflex saves were incredible against Man U and perhaps saved them on a couple of occasions. I will continue to say that he is a must have!
Sturridge-
OMG! can this guy get any better? Scoring in all 3 games and to make this even more remarkable, he has scored the winner in all 3 as well! His goal against Man U was a bit lucky but still well deserved. He is really striving on the opportunity to play in the starting team and he will be one of the top goal scorers this season. Given his general positioning and the way Liverpool want to play and thus use Daniel, he is becoming a must-have type proposition.
Sterling-
He came off the bench and became a bit of a threat to the Man U defence. He nearly scored a spectacular goal from just outside the box. Had a cracker of a season last year and hopefully he can find some of that form again. Given his low pricing and the run of fixtures Liverpool has coming up, certainly keep a keen eye on him.
Manchester United
Nani-
About time this guy started looking good. Given his ability with the ball and the pace he possess, he really should be a first team regular. Anyway, he nearly scored on one occasion but was denied by Mignolet. Watch out because at his best, Nani is a fantasy stud!
David de Gea- People underestimate this players ability in goal, he is currently ranked 6th in the world for goalkeepers according to many sources and I have to agree with that. He made a few good saves against Liverpool and looked in good shape. The thing that's going to let him down is the strength of the United defence, which at this stage is not looking particularly strong.
Arsenal vs Tottenham
Final result: 1-0 :(
Arsenal
Giroud-
Once again he does it, I don't even know how. After last season I didn't think he was going to have the greatest of years, but he has been incredible. Scoring in every game and looking dangerous every time he gets the ball, which is a big improvement from last season. Scored a very nice goal against Spurs and that proved to be the winner. With Arsenal not managing to find a striker in the transfer market, expect Olivier to have great and consistent scoring potential throughout the campaign.
Santi Cazorla-
He is starting to find a lot of form folks! His dribbling and pass accuracy whilst attacking is simply sublime and he once again showed this against Spurs. He came very close to scoring 2 free kicks and had Lloris very worried. If he keeps up this attacking form, he will be transferred into my team and Hazard will be making way.
NOTE: Hazard scored and assisted in the UEFA Super Cup against Bayern Munich, possibly may rethink that...
Tottenham Hotspur
Lamela- He is a brand new signing and is going to be an incredible player. He started as the sub which is expected, but when he came on, he immediately started taking corners and free kicks. He forced a couple of saves from Sczesny. Good early signs from the young Argentine.
Vertonghen- He has proven to be a very solid defender this season. He can attack, play LB and CB. He is really all you could want from a defender. He didn't have his greatest game against the Gunners but he was still one of the better defenders on the day. Consider, because at his best, his attacking potential is greater than almost every defender in the game.
West Ham United vs Stoke City
Final Result: 0-1
West Ham United
Nolan- Kevin had dreadful supply and couldn't work his way into the game at any stage. The positive at this stage is that he seems to be leading the line for the Hammers, at least until Carroll arrives. Put this down as just one of those days, I expect him to bounce back sooner rather than later.
Stoke City
Pieters- Pieters played an influential game from his left back position. Over the last 4 years Stoke have averaged the most clean sheets in the Premier League in the first ten fixtures. Couple this with the fact that they still look as resolute as ever, and Pieters is the cheapest route into the Stoke defence. He is certainly a smoky worth considering...
Adam-
Charlie is slowly establishing himself as the prime Stoke man for the role in the hole. His stats suggest as much with his average position of receiving the ball gradually being deeper and more central over the first three weeks. In this match he had an attempt at goal every 25.3 minutes and certainly isn't worried about shooting it. Was a star at Blackpool and if he can rediscover this form, he'll be a menace at Stoke. His form on Saturday was a good launching pad.
Cardiff vs Everton
Final Result: 0-0
Cardiff
Whittingham- Simply can't overlook Whittingham. Cardiff will be a force at home, and with someone on all of the dead ball plays, plus constantly pushing forward, Peter will provide fantasy points. In this match he averaged the most forward position of any Cardiff player to not start as the sub. Just another statistic which certainly bodes well.
Everton
Barkley- The kid looks seriously good.
In a drab contest, Ross was one of the few shining lights.
Everton have grabbed a few in the market, but no one who has the ability to perform the role Ross did. He's such an attacking influence, having a shot every 23.5 minutes and creating a chance as many times as anyone did in this fixture. Still very cheap and I think given all that we know about him now, he may still be worthy of investment.
Baines- It's just a matter of time before he produces from an attacking point of view. His pass completion rate inside the final third was fantastic, completing 82% of passes. He continually averages one of the higher positions on the pitch, much further up then the other attacking wing back Coleman. Keep in mind, because at some stage he'll produce.
NOTE: The recent acquisition of Lukaku should help him convert set-piece plays!
Thanks for reading fantasy fellows! Join the FB Page and Group above!