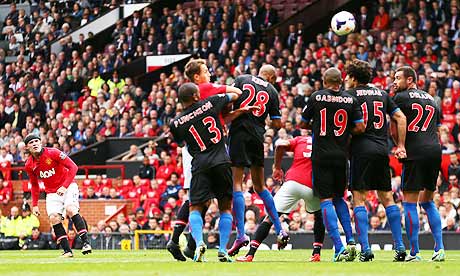 Rooney's free kick sealed the deal at Old Trafford
Manchester United vs Crystal Palace
Final Result: 2-0
Manchester United
Rooney- Wayne played the type of game which he is capable of producing week in, week out. He connected the midfield to the front line and managed to supply Van Persie with some incredible delivery. The issue with Wayne is that at a price of 11.0, he's not really playing 'out-and-out' striker and this takes away from his ability to score as much as he'd like. Undoubtedly he'll score and assist throughout the season, but with him playing in a much deeper role than fantasy owners would prefer at the moment, I wouldn't do everything in my power to fit him in. On displays like this one though, his football still proves to be mesmerising.
Van Persie- Robin isn't in the best of form at the moment. He had 6 shots, and had very good opportunities throughout the 90 minutes to score, yet only found the back of the net from the penalty spot. With a fantastic draw coming up after the Man City game, expect Van Persie to fire, but at this moment in time maybe he isn't the nailed on captain option we'd thought he was.
Fellaini- Came on for the last 25 minutes or so and he certainly settled in quickly. Before the game we heard Moyes plans to use Maroane in a defensive midfield role, which lowered the interest of fantasy managers around the world. He had a fantastic volley, which nearly produced a memorable debut goal but in essence I'd avoid until he is given more of a forward license.
Crystal Palace
Gayle- Dwight didn't get many opportunities, but he looked to be Palace's main vocal point throughout. He is a value selection and given the run that he provided in his 64 minutes on the pitch, I'd suspect he will score the odd goal now and again. Has already scored once this season, so if you're in need of a cheap attacking acquisition, you could do far worse than Dwight.
Sunderland vs Arsenal
Final Result: 1-3
Sunderland
Gardner- Came on at half time and was an immediate menace for the visitors. Finished the penalty, had good pace and free kicks which were continually putting the Gunners in uncomfortable positions. I'd watch with interest because on this form Gardner has to be considered for a starting role and potential fantasy acquisition.
Altidore- At his best, Altidore looks to be unstoppable. He is a massive unit, and can keep the ball under immense pressure very well and on a consistent basis. He had a goal disallowed by the referee which was a blatant error and unfortunate because the American was deserving. I'd keep him on the radar, if Sunderland do manage to find some form at some stage this season, Jozy could be worth a position in your FPL side.
Arsenal
Ramsey
-
Is proving to be exactly what Arsenal had hoped he would become. Scored a double, with an incredible volley the pick of the lot as he was without doubt the Man of the Match. He's getting into more attacking positions than last season, and in better form which enables him to have a greater ability to capitalise on it! For a more in-depth analysis, read here.
Ozil
-
Looked seriously good in his first outing. Mesut's passing range is quite phenomenal, and with the fast-break method Arsenal use to score traditionally, this is already proving to go hand in hand with his game. For a more in-depth analysis on what to expect from the German superstar, read here
Tottenham vs Norwich
Final Result: 2-0
Tottenham
Eriksen- After signing from Ajax, Andre Villas Boas was keen to get his new play maker right into the mix of things. It only took a bit over 27 minutes to be involved, with a beautiful touch that allowed Sigurdsson to score the opener. He was involved in the build up to the second goal as well. He played in a CAM role for the majority of game until he got subbed off. Incredible debut and is sure to be one of the most dangerous midfielders in the league. At 8.0 he is incredible value.
Sigurdsson- WOW! Boy is he one to look out for! Scoring a very good double on the weekend and winning the game for Spurs. He played in a flank role and certainly played well. He has had a good start to the season and has created a lot of scoring opportunities so far this season and it finally all came together on the weekend. Once he gets on a role he is very dangerous. Keep an eye on him as he has scored a total of 4 goals from 8 matches (4 EPL and 4 FA cup) which is an incredible record for a midfielder.
Norwich
Bassong- He was arguably Norwich's best player, which wasn't very hard to be honest. He made a crucial block which prevented Soldado's back heel from going in and then just minutes later he came to the rescue again when Soldado had another shot on goal but he blocked once again. Very good defender but needs to be playing in a better team, to be fantasy relevant.
Aston Villa vs Newcastle
Final result: 1-2
Aston Villa
Benteke- Once again he scores. Bloody incredible start to the season and will sure be in the top 3 top goal scorers this season. Really enough said, get on if you don't own him!
Newcastle
Ben Arfa- Was everywhere and really creating every chance Newcastle had... Read an in-depth analysis here
Gouffran- He came on to the field in the 63rd minute replacing the impressive Remy and moved into an attacking role immediately. It took him just 10 minutes to score a crucial goal that deflected off Guzan and then left an empty net for Gouffran. Very good player but probably not Fantasy related at this stage. Nonetheless, watch with interest.
Remy- He is one player to look out for, after spending the latter half of last season with QPR, Remy joined Newcastle and played his first game against Villa. He showed just how quick he really is and how dangerous he can be once he gets things moving. Had a couple chances on the weekend but didn't take them, but nonetheless he is a very promising player for Fantasy teams.
Everton vs Chelsea
Final result: 1-0
Everton
Naismith- He was voted by the fans as one of the best performers against Chelsea, mainly because of the simple header he scored. He played a decent game but you can't expect him to score a lot. He is a very likeable player, but isn't much of a player when it comes to Fantasy. Don't be sucked in.
Coleman- He has arguably been Everton's best defender so far this season. He kept a clean sheet against a powerhouse in Chelsea. He has been an incredible bargain for Fantasy teams and is looking like keeping this form up. He is dangerous in the air from corners which makes him a terrific defender and one of the best in the league this year.
Chelsea
Eto'o- He was a major signing for Mourinho and in the end it probably will prove to be an important coup. On the weekend though, he played quite poorly. He missed chance after chance. This wasn't like him because every time he has gone to a new club, in his debut game he has scored. If he continues to get opportunities like this, he will gain confidence and eventually start scoring more goals and will more than likely be a good Fantasy pick in the long run.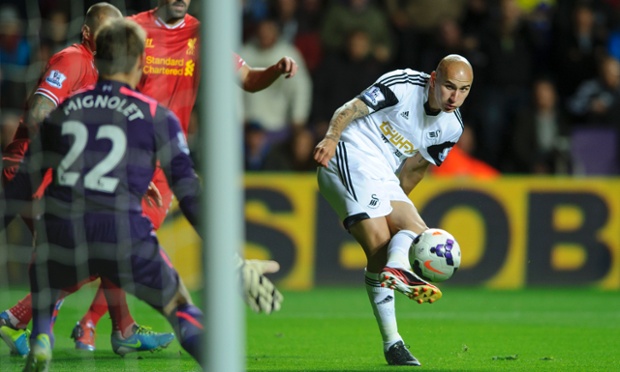 Swansea vs Liverpool
Final Result: 2-2
Swansea
Shelvey- Jonjo had a once in a lifetime type game. Scoring the first against his previous club within 2 minutes. Then back-passing poorly to give away the second goal of the match, just a minute later. Then later within that half, he made another poor pass which led to Moses' first Liverpool goal. With the game heading towards a loss for the Welsh outfit, Shelvey then provided a fantastic assist as he used some splendid passing and then a little flick down header to set Michu up perfectly. The type of game that takes the best part of 10 lines to explain... Jonjo does have a lot of fantasy relevance nonetheless. He is on dead balls and has been for the whole season. He has created a chance every 64.5 minutes, and generally has a high shot per 90 minute ratio (although his numbers are down on last season). At 5.5, you could do far worse.
Bony- The American looked like he was going to score a couple of times in this contest, but sadly for his owners, excellent defending led to another blank. I also think it's just a matter of time before Wilfried fires up. He has incredible power in his shot, and can hit them at warp-like speed without much back lift at all. Keep on the radar!
Michu- Michu played a classic 'Michu' type game if you will. He ghosted in and out of the contest, but his touch in and around the penalty area was so skilful and creative that you suspect against weaker opposition he would've had a day out. I'd look to acquire as soon as you see a strong run of fixtures for Swansea, because it's just a matter of time before Michu begins to dominate.
Liverpool
Sturridge- He continues to finds ways to score, and I guess when you're in the form that he is, that isn't much of a surprise. He really had quite a low key game, failing to do much of significance. The best part about Daniel is the fact he's been just so deadly in front of goal. A bit of rest before his next outing will do his body the world of good, as I still suspect he's recovering from previous injuries.
Moses- Victor can be bought in FPL at 6.2, which is remarkable value for a player who has so much attacking potential. Obviously scored on debut and had a few creative passes which could well have led to more. His speed and work rate fits in well with Liverpool's playing style and I suspect he'll do quite well under Rodgers. Definitely consider.
Thanks for reading this analysis of the weekends fixtures! Hope your side destroyed this week fantasy fellows!