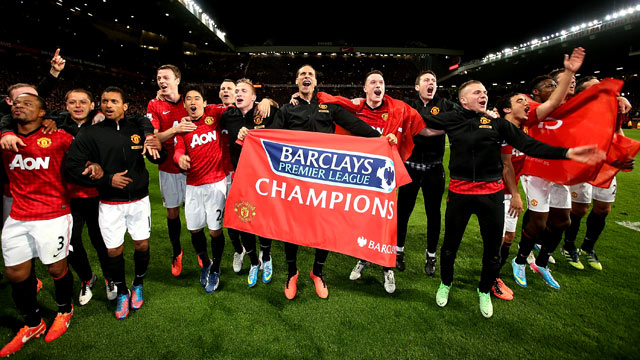 Finding the Dream Run can lead to a League Championship!
Like the picture above says, finding a team of players who have a strong fixture lists can be the difference between being Champion and an also run. Through this article, I'll go through the must have draws and the difficult draws that sides have. This must be keenly focused on once selecting your actual squad, as like I said, you don't want to have Arsenal, LIVERPOOL and Chelsea first up *cough*Aston Villa*cough*!
The Must Have Draws From Gameweek 1 to 5
(Note- CAPS teams are at home, lower case are away)
Arsenal
Run: ASTON VILLA, Fulham, TOTTENHAM, Sunderland, STOKE
That is a phenomenal fixture run over the first five weeks, only playing one opponent which is certain to finish in the top half of the table. In fact, the Gunners first 9 weeks are very strong with matches at home to Norwich and trips to Palace and West Brom. Given Arsenal's record as the second best defensive side in the league last year, and with a record of 8 wins/2 draws over their last 10 last season, expect the Gunners to be flying early on. Investment all over the park seems a good decision!
Man City
Run: NEWCASTLE, Cardiff, HULL, Stoke, MAN UNITED
Look at those opening 3 fixtures! I don't know about you, but that makes me a tad excited! Stoke is a difficult trip away from home, but still quite a good chance for a clean sheet, given Stoke's difficulty with finding the back of the net. The Man U game will be difficult, but expect goals galore if recent seasons are anything to go on, and as a byproduct the likes of Sergio Aguero and David Silva seem very likely fantasy options! Heavy investment in last seasons runners up is a must!
Liverpool
Run: STOKE, Aston villa, MAN UNITED, Swansea, SOUTHAMPTON
This draw looks very strong the Gerrard-led Reds. Man United appears the only stumbling block, and they do have a strong first seven gameweeks which includes Palace at home. Given Liverpool began to show something in the latter stages of last season, with players such as Coutinho and Sturridge proving fantastic acquisitions, investment in attacking minded players might be a good option. This firms the chances of recent signing Iago Aspas' landing a gig in our starting squads.
West Ham
Run: CARDIFF, Newcastle, STOKE, Southampton, EVERTON
West Ham's opening fixtures look very promising. In GW6 they travel to Hull, so that should be added into the frame. A fantastic opening fixture against Cardiff should allow players like Carrol, Nolan and Jarvis to dominate for an affordable price. Keep tabs on a cheap defensive player from the Hammers, as this could also be a wise get for the first 6GW's!
Southampton
Run: West brom, SUNDERLAND, Norwich, WEST HAM, Liverpool, CRYSTAL PALACE

That run is exactly what we need. Southampton, a free flowing football team who, at times can score for fun, as Liverpool found out last season. Investment in attacking options should well be considered, but given their opposition and the price of their defensive options, wing backs like Clyne and Shaw should prove to be fantastic options as well!
Chelsea
Run: HULL CITY, Manchester united, ASTON VILLA, Everton, FULHAM
Given the expectations that surround Chelsea this time around with 'The Chosen One' back at the helm, expect all 3 home games to produce major points in all departments. Trips to Everton and Man U should prove difficult, although from an attacking point of view, points should still be on offer. Load up on your Mata's, Hazard's and whoever eventually becomes the nailed on striker. Defensively, given their opposition and the amount of money you'll have to spend, I doubt there is much worth in loading up in that area at this stage. Note that the Villa game will be moved, so be aware as to when it is, as there'll be a double gameweek at some stage!
The Difficult Draws From Gameweek 1 to 5
Manchester United
Run: Swansea, CHELSEA, Liverpool, CRYSTAL PALACE, Man city
That's a very difficult run to begin David Moyes rein. A trip to Swansea, home opposed to the Mourinho managed Chelsea, Liverpool away and Crystal Palace at home, not to mention the big derby the following week. I think from an attacking point of view, this fixture list isn't too bad, and expect RVP to still be his dominant self. Don't look to defensive acquisitions though, as there is only one strong fixture in the first five!
Aston Villa
Run: Arsenal, LIVERPOOL, Chelsea, NEWCASTLE, Norwich
I mentioned it before, but look at that first three matches. Ridiculous stuff! Villa after those opening three, start to look okay, but they will be hit defensively and they'll find it difficult to score at the other end. If you like a Villa player, look at bringing him around GW4, when the fixture list opens up dramatically!
Swansea
Run: MAN UNITED, Tottenham, West brom, LIVERPOOL, Crystal Palace
This is another excessively difficult run. Only 2 at home. Both of which are against top 4 contenders. An away fixture to Tottenham. As much as we have enjoyed our Swansea players in the past, I think waiting to GW5 may well be a wise decision. Players like Michu and Bony may still be worthy starters, but I'd definitely not consider any defensive options at this stage for the Laudrup managed side.
Cardiff
Run: West ham, MAN CITY, EVERTON, Hull, TOTTENHAM

The newly promoted Cardiff could hardly have received a more difficult run early on. Those three home fixtures are against sides competing for the 4. Although nearly all options will be cheap early days, I think we should wait and see on who is most likely to be producing from an offensive end. Defensively their work will be cut out for them all season, but expect them to ship them out by the handful through this run. Avoid, avoid, avoid!
Stoke
Run: Liverpool, CRYSTAL PALACE, West ham, MAN CITY, Arsenal
Stoke have been the type of club which you can usually bank on a clean sheet from, especially at home. With a new manager, and a new direction, this may well change. Nonetheless they aren't worthy of selection with this opening draw. Only the one promising fixture (in GW2) from the first five is the major issue. Players like Adam, Walters and Crouch will also likely find this a tough period. Staying away from Stoke at this stage seems like a solid option!
Anyway what are your thoughts on the fixture list? If you're thinking of playing Fantasy Premier League, please join the FPL Dreamers FB Page
HERE
, where we will discuss everything regarding fantasy football.
Thanks for reading everyone! Do you guys agree with this consensus? Comment below! If you guys enjoyed the post like our page
HERE
and follow me on twitter
HERE
!