Simon Mignolet saves the clean sheet!
G'day everyone!
My name is Steve Dawson and I'm from South Australia. I follow the AFL and EPL in great detail. I go for Port Adelaide in the AFL and the mighty Tottenham Hotspurs in the EPL. I have now been playing AFL Dream team for 3 years now and I'm still not the greatest but improving significantly each year. I've also been playing Fantasy Premier League for a few years as well and have a good grasp on the majority of players in the league. I'm very knowledgeable in both AFL and EPL as I watch most games of both codes each week. I look forward to writing more posts like this one and look forward to hearing your feedback.
Liverpool vs Stoke City
It was the first game of the 13/14 EPL season and Liverpool who clinched victory over a timid Stoke City. Liverpool nearly paid the price for not taking their chances early on in the game, but Mignolet stepped up to the occasion in his debut match for Liverpool when he saved a Walters penalty in the 89th minute. Some of the players that stood out to me the most were Sturridge, Countinho, Henderson, Mignolet and Begovich.
Sturridge (Liverpool):
Sturridge was arguably one of the players of the match. He put the ball in the back of the net after a punishing left foot strike from the edge of the box. He had many chances throughout the game and even created a few through his personal efforts. He looked dangerous whenever he took possession of the ball because of his sheer pace and accurate shot. He picked up a handy 6 points in FPL and will now be expected to keep this run going.
Countinho (Liverpool):
Countinho is selected by 23.1% of all FPl teams. He scored a total of 3 points against Stoke but could have easily got many more. He was very skilful whilst in possession of the ball and caused the Stoke defenders to panic, which allowed Countinho to play some very clever passes through to the attackers. He had a couple of shots on goal which were more hopeful shots than anything else. He is definitely one to look out for as he showed he has plenty of potential.
Henderson (Liverpool):
Henderson was a very exciting player to watch. He nearly scored on a number of occasions and in fact hit the post and forced a magnificent save from Begovich. Henderson is known for playing in a central midfielder role but he surprised a lot of people by attacking and pushing up the ground a lot more. He has the ability to push back and help the defenders out, but then rush up the pitch and launch a long shot or play the vital pass to Sturridge or Suarez when he comes back. He scored a total of 3 points in FPL but could easily have beeen in the Dream Team this week if a couple of his shots went in.
Mignolet (Liverpool):
Mignolet basically won the game for Liverpool in the end with his outstanding penalty save. He made many saves throughout the game and produced one of the most impressive debuts by a keeper for a long time. He scored a whopping 15 points in FPL and is a very good option to replace a Joe Hart or a Cech to then free up some cash.
Begovic (Stoke City):
Begovic in my opinion was the best player on the pitch. He made some of the best saves of the weekend, totalling a ridiculous 10. Without Begovich in goal, Stoke City would have lost by much more. It was his career high total of saves and he looks like an up-coming goal keeper. He scored a total of 5 points in FPL and will be a quality keeper all season long.
Arsenal vs Aston Villa
It was a much anticipated fixture as the Arsenal fans are very frustrated with the lack of players being bought. They have the money to spend but are not doing anything about it. Giroud opened the scoring early on but then a couple of penalties saw Aston Villa take away the 3 points to get their season of to a ripper start. Some of the players that stood out to me the most were Agbonlahor, Rosicki and Benteke.
Agbonlahor (Aston Villa):
PACE PACE PACE!!!!. This guy is bloody quick, as he showed when he won the penalty. He had enough speed to beat the defenders and then force the penalty by tapping the ball to the side of the keeper and then getting his legs taking out by the keeper because of this. Although he may not be a wise option for many FPL teams, he is certainly one to lookout for, especially if he finds form. He scored a total of 4 points in FPL and would have been 5 but for a yellow card.
Rosicki (Arsenal):
Thomas Rosicki could have potentially won the game for Arsenal if he took his chances. He had plenty of opportunities to hit the back of the net but didn't take any of them. He set up a lot of play and looked like Arsenal's best player for majority of the 90 minutes which is a big positive for the midfielder. He scored a total of just 2 points.
Benteke (Aston Villa):
Benteke has done it again; he has continued his incredible form over into the 13/14 season. He scored 2 goals on the weekend, both from penalties. His first penalty was a bit lucky with it rebounding of the keeper then having a easy header from 3 yards out. He scored 10 points in FPL and is definitely a must have in all FPL teams.
Crystal Palace vs Tottenham Hotspur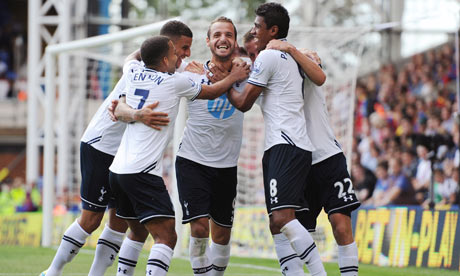 The mighty Tottenham Hotspurs were looking at getting their season off to a steady start after dealing with a lot of pressure and frustration due to the Gareth Bale saga. They came up against the newly promoted Crystal Palace who were very impressive. There stadium looks like a very intimidating venue to go and visit, which is why I think they will be a top 12 side this season. Some players that stood out to me the most are Soldado, Danny Rose, Chadli and Chamahk.
Soldado (Tottenham):
Everyone was eager to see how Tottenham's multi-million dollar signing performed in his first game, and he didn't fail to disappoint. He netted the winner through a well taken penalty. He is a target man and a creator. He was getting plenty of crosses delivered directly to him in the box and he created a couple of chances when he pushed to the wide areas of the pitch. He scored a total of 9 points in FPL and gave value for money, even given his high price.
Danny Rose (Tottenham):
This guy was incredible. He has not played many games for Spurs but he certainly showed his talent against Palace. He played in the LB position but pushed up the pitch a lot and got very close to scoring. He provided a lot of run down the wings but was lacking the final cross. He controls the play very well as he showed by holding off defenders with shear strength numerous times. He scored a total of 3 points in FPL but has the potential to be a high priced player towards the end of the season. I definitely have my eye on this guy's future.
Chadli (Tottenham):
He is one of Tottenham's new signings that was made this pre-season alongside Soldado. Chadli certainly looked like a player with a load of potential. He should have opened the scoring on the brink of half time. He is tall and reminds me of Adebayor. He has got a punishing shot when he gets space as he showed a couple times throughout the game against Crystal Palace. He scored a total of 3 points in FPL and is one to look out for in the future.
Chamakh (Crystal Palace):
Chamakh is an ex-Arsenal player, giving the Spurs fans a quality reason to abuse and ridicule his every touch. He started as a sub and came on around the 70th minute. He provided a lot of run and was quite close to scoring and getting an assist at various stages in the game. His price is only 5.0 but if Chamahk can consistently start games, he will be a real goal threat for the future. He scored a total of just 1 point in FPL but that's simply because he started as the sub.
Thanks for reading guys. Would appreciate a comment, how's your side travelling thus far?