Giroud continued his fine form in front of goal on the weekend
Fulham vs Arsenal
Final result: 1-3
Arsenal
Giroud- just saying if you took the advice in this post before the start of the season, you'd be a happy manager. Nonetheless Olivier is continuing to prove just how good his form is at the moment, netting in the last 3 competitive matches for the Gunners. He dominated an at times, lack lustre Fulham defence and was continually getting into strong positions. His goal was certainly opportunistic but deserving nonetheless. Still great value.
Podolski- When he starts and when he plays poor opposition Lukas invariably scores. That happened again as he was gifted opportunities through swift attacking moves but also poor pressure. Great finisher majority of the time, but as a Gunners fan I must admit I don't trust his starting job security.
EDIT: Pulled hamstring, will be out for 3 weeks...
Walcott- He is one of the most dangerous players going forward for Arsenal so far this season. His match against Fulham showed just that, with Theo continually using his lightning speed to beat defenders and get into crossing position. The combination of Walcott and Giroud is going to be a real force and will have a big impact on whether Arsenal can maintain a spot in the top 4. Expect him to be scoring sooner rather than later.
Fulham
Bent- The recently transferred Bent was out to impress the Fulham fans and prove that he is a deserving starter in their team. He scored a typical 'Darren Bent goal' on the weekend, where he worked his way into the box and shot from close range. Definitely a player to watch if he can get consistent starting time.
Taarabt- He recently transferred from recently relegated side QPR in order to play in a stronger team and keep playing in the EPL. He has great skill whilst on the ball and forced an incredible save from Szczesny. He will be a key player for fullham this year and will hopefully become a solid FPL player.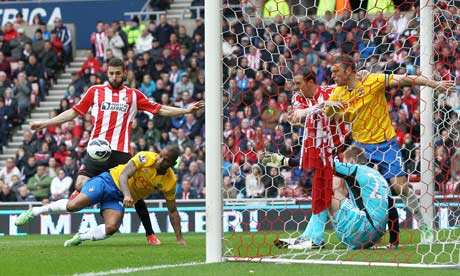 Southampton vs Sunderland
Final result: 1-1
Southamptom
Jose Fonte- He was Southampton's life saver at the end of the game. Scoring a crucial goal in the 87th minute giving them a well deserved 1-1 draw. I don't think he will be the type of player that you will see in many FPL teams but could possibly score a sneaky goal every now and then. Priced at a meagre 4.5, he does have value.
Lambert- He continuously shows why he is the main man at Southampton and why he must be considered for every FPL team. Although he did not get an assist or goal, he had many chances that could have easily hit the back of the net. He is their main free kick taker and normally does very well from a set piece. I'm expecting him to score a high amount of points most week if his form that he showed in this game continues.
Sunderland
Altidore- He recently came from the MLS in order to play at a higher level. He was starting to cause a bit of trouble for the Stoke defenders, even though he only had 1 shot on target. As he plays more, he will get more confidence and hopefully with that confidence, he will start scoring some goals. Not a very good FPL player at the moment but you never know what could happen in the next couple of weeks.
Aston Villa vs Liverpool
Final result: 0-1
Aston Villa
Benteke- This was Charles first game where he did not score a goal believe it or not. He has been in outstanding form lately and performed very nicely against the Reds. He forced many good saves from Mignolet and if Mignolet wasn't in good form, Benteke would have scored at least a double. I keep my word in saying that he is a must have for all FPL teams.
Delph- Delph has had a very good start to the season even though he hasn't scored any goals. His play through the midfield this season so far has been one of the best. His damaging left foot nearly forced the ball into the back of the net once against the Reds. He has improved since last season, as have Aston Villa.
Liverpool
Sturridge- Not too much to say about Sturridge. He is having an incredible start to the season thus far, picking up a goal against Stoke and Aston Villa. His goal on the weekend was nothing but class. He is one of the top strikers currently and his making full use of his starting time. At a price of 9.0, you could do far worse.
Henderson- Henderson is one of my favourite players this year. The way that he gets into attacking positions is simply sublime and his deadly passing is going to make Sturridge very happy when attacking. He played very well on the weekend and continues to show why he should be starting in Brendan Rogers team. The potential for assists is high if he continues in this role.
Jose Enrique- He provided the awesome through ball that Sturridge fantastically finished in the back of the net. His pace really troubled the midfielders and defenders from Villa, even though he was playing defence. he pushed up nearly every attack and to great success. If he continues to play like this, he will provide a large amount of attacking points for a defender and thus he must be considered.
Cardiff vs Manchester City
Final Result: 3-2
Cardiff
Campbell- Could I really start anywhere else? Frazier burst onto the Premier league scene this week with an outstanding performance to pull off the mother of all upsets. Can we expect this type of fantasy production in the future though? Probably not, the 2 goals he scored were from goal mouth scrambles, involving headers. Given his lack of size, you wouldn't expect these types of goals to continue. The other issue is Cardiff have another man in record signing, Cornelius, who is expected to lead the line this season. Nonetheless if Campbell can continue in this vein of form, expect points to flow and given his price he may be a worthy investment at some stage in this campaign. All I'm saying is, buyer beware.
Whittingham- Taking all the corners at this stage, and potentially that's reason enough to invest. He took 2 shots, had 3 chance creating passes and for the most part looked a player who will score and provide throughout the campaign. Watch to see whether these types of performances continue.
Manchester City
Aguero- Although Sergio has now provided 2 attacking returns in the first 2 games, his underlying statistics suggest he hasn't been providing much from an attacking point of view at this stage. Only 2 shots were taken by him, with only another 3 chances created in a match where for the most part City were absolutely dominant. He is the most deep sitting player for City at the moment, so the potential for him to create attacking returns is no doubt there, he'll just need to lift his output.
Silva- David was on fire in this contest, having 3 shots and creating a chance every 24.3 minutes. Provided an assist and looked a general threat throughout the contest. Will continue to create havoc and dominate defenders through this campaign, so acquisition may potentially be a necessity at some stage. Remember he was the must have player not so long ago and on this evidence he may well be reinstated.
Manchester United vs Chelsea
Final Result: 0-0
Manchester United
Rooney- By far the best player on a park full of stars, many of whom had lack lustre performances. Wayne had a shot every 23 minutes, with a shot on target every 30. In a congested and tough game, these are outstanding figures. He linked the play and brought the ball forward on countless occasions for United. Investing in him after the transfer window (there is still conjecture over whether he will be a Chelsea player or not), may be a good move either way. If he continues playing this way, Moyes will have no choice but to play him in the 'hole'.
Chelsea
Oscar- Oscar continues to impress me, he really looks to have grown even from last years performances. He had a shot every 31.3 minutes and like Rooney, was the main player to link the play between the defence to midfield and onwards. He is also playing the role in the 'hole' for Mourinho's men, and the deeper he plays, the more likely his attacking output will be. Given his price, I think he is a worthy investment. Just remember that he won't have anything in gameweek 3.
Hazard
- Eden has been playing a left-wing role, just so we're all clear that he in fact wasn't leading the line for Chelsea. He hasn't provided much attacking impetus, so although I'd suggest giving him another week, with their bye coming up, jumping ship may well be the way to go. Provided little in terms of linking the play in this game. Had only one shot and created only one chance in what has been a slow start from the French men.
Thanks for reading fantasy fellows! Join the FB Page and Group above!